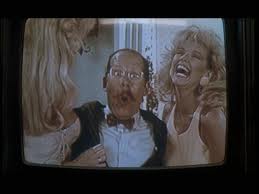 It's Not My Problem! is a comedy show on television, apparently a big hit with a diverse audience, many of old Detroit's residents tune in, including 7 - 11 store owners, powerful executives, violent street hoodlums and cops.
It seems to center around Bixby Snyder, a drunken, crass, scruffy, middle-aged man in glasses, who gets into a variety of unusual, unlikely, slapstick situations, more often than not including one or more women of questionable moral standing. The main character is generally offered some incredibly lucky or rewarding prize, to which the main character invariably laughs hoarsely and ejaculates his catchphrase: "I'd buy that for a dollar!"
Naturally, the residents of Old Detroit find this a never ending source of hilarity. No wonder crime is so high.
Ad blocker interference detected!
Wikia is a free-to-use site that makes money from advertising. We have a modified experience for viewers using ad blockers

Wikia is not accessible if you've made further modifications. Remove the custom ad blocker rule(s) and the page will load as expected.