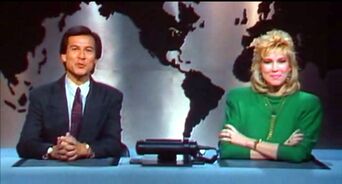 RoboCop Movies
Edit
"This is Mediabreak. You give us three minutes and we'll give you the world."

- the announcer introducing Mediabreak.
Mediabreak is a program on Channel 9; the by the hour on the hour news service that puts you in the picture. On Mediabreak, normal people get a chance to voice their opinions on current affairs. It's hosted by Casey Wong and Jess Perkins, with their on-site reporter Justin Ballard-Watkins. With Channel 9's Mediabreak, you get bad news with a smile.
As in the movies Mediabreak is a program on Channel 9, an on the hour, by the hour news service. It is hosted by Bo Harlan and Rocky Crenshaw with correspondent Charles Coffey.
Set ten years after the original movie, RoboCop: Prime Directives features Media Net as a future version of Mediabreak. This is later upgraded to Media Net 2.0 with new hosts.
Anchormen
Edit
Casey Wong
Jess Perkins
Bo Harlan
Rocky Crenshaw
Ad blocker interference detected!
Wikia is a free-to-use site that makes money from advertising. We have a modified experience for viewers using ad blockers

Wikia is not accessible if you've made further modifications. Remove the custom ad blocker rule(s) and the page will load as expected.