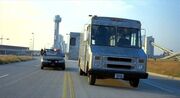 "Man, this crate aint gonna out run a cop!"

- Emil before the firefight on Industrial Way.
Spacious, robust and dodgy looking, the gang's Chevrolet Step Van panel van features a brutally stripped down interior, no paint or primer, and sliding metal covers over the windows to keep out prying eyes. And prying bullets.
Emil seems to be charged with driving it, which he does rather well, until it really matters.
Ad blocker interference detected!
Wikia is a free-to-use site that makes money from advertising. We have a modified experience for viewers using ad blockers

Wikia is not accessible if you've made further modifications. Remove the custom ad blocker rule(s) and the page will load as expected.