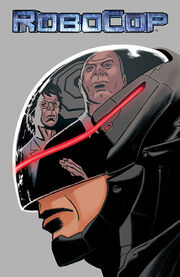 RoboCop: Beta
is the fourth of the Boom! Comics releases, written by Ed Brisson and art by Emilio Laiso.
The story begins in Iran, with a team of US soldiers finding the body of one of their own, identified as Joshua Duncan, killed with a bullet through his forehead.
The next the reader sees, Dennett Norton is greeting a newly-awakened Joshua Duncan. Joshua sees what they've done to him and reacts badly; Norton instantly orders him to be shut down.
Duncan is awakaned again, sedated, while Norton explains that his unit found him, but as an unfortunate side effect of his injury, most of his memory has been lost.
Raymond Sellars shows up, displeased with Duncan's appearance, insisting he would give the American people nightmares, which is not what OmniCorp wants or needs. Duncan has a nightmare of an event back in Iran, and the scientists question whether they should wipe his memory, but Norton argues that keeping some trace of memory will help allay Sellars's qualms that Duncan doesn't seem human.
Three months later, the cyborg is introduced in Iran, into a unit which is heavily fortified by other OmniCorp products--ED-209s patrol the perimeter, etcetera. The CO seems unhappy, but Sellars pulls no punches, threatening to pull all OmniCorp support from the unit if they don't support the cyborg's trial run.
The first street test is a rousing success and the soldiers are pleased, but the general is outraged: he recognizes Joshua Duncan. Norton tries to argue the soldiers might find it comforting to know that death wasn't necessarily the end, but the general counters, putting his foot down and refusing to let Duncan go out with his unit again.
Meanwhile, Duncan has another nightmare of a house, a weapons search and an innocent family getting shot and killed. He tears himself awake, returning to his old unit, his former squadmates, intent on killing them in revenge. He discovers that he, not they, killed the family, the innocent women and children, and in a fit of despair, rushes outside, and engages with the ED-209s on the perimeter, basically committing suicide.
Two days later, Sellars meets Norton again, as Norton's packing up, complaining about how much the coverup cost. Next time, Sellars says, no more military, more careful vetting of the candidate, better everything, and the world would never know about Joshua Duncan.
The CO of the unit in Iran is called a General but he talks about his "platoon". In the US Army, generals are field grade and wouldn't be commanding anything so small as a platoon in the field.
The chair featured for Joshua Duncan's support harkens back to the original 1987 movie RoboCop's.
Despite the cover, Alex Murphy is never featured in the issue.