RoboCop is a cyborg created from the remains of the fallen DPD Officer Alex Murphy. He fights crime with his partner Anne Lewis in Old Detroit. RoboCop fights to save the city of Old Detroit from assorted rogue elements, and on occasion, fighting to reclaim aspects of his humanity and maintain his usefulness in the eyes of the "Old Man", Chairman of OCP. RoboCop is maintained by RoboCop Project director Dr. Tyler.
Biography
Edit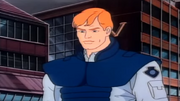 Alex Murphy was badly wounded by a man named Clarence Boddicker.
Technical specifications
Edit
RoboCop had a red light in the middle of his visor (which occasionally panned the whole visor).
Equipment
Edit
RoboCop was equipped with a unnamed laser gun.
Dr. Tyler designed a helicopter vehicle for him call the "Robo-Copter."
Behind the Scenes
Edit
RoboCop is faster and has a greater range of movement than in the films.
Due to RoboCop's human brain he can get a head cold which causes him to sneeze blue lightning.
RoboCop: The Animated Series
Edit
RoboCop: Alpha Commando
Edit
Ad blocker interference detected!
Wikia is a free-to-use site that makes money from advertising. We have a modified experience for viewers using ad blockers

Wikia is not accessible if you've made further modifications. Remove the custom ad blocker rule(s) and the page will load as expected.