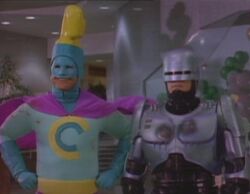 RoboCop vs Commander Cash is the thirteenth episode of RoboCop: The Series. Roddy Piper guest stars in this episode as Faked Commander Cash.
The creator of a top-secret message encryption program takes his revenge on OCP and the man who betrayed him; Simon Atwater, currently VP of Child Development.
Commander Cash "Super Flakes" cereal has a special ingredient in it that is activated by "a common phosphorus-calcium-based household chemical", but is undetectable otherwise. When you eat it, it makes you susceptible to subliminal advertising. RoboCop discovers this and saves the children of America from being brainwashed. The superhero always wins. He never lies, never breaks the law, and never rests until the villain is brought to justice. He also provides a good example for children.