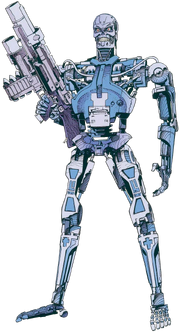 T-800 refers to a series of androids manufactured by the self-aware computer Skynet, which by the year 2029, is fighting a losing battle with humanity. They are commonly known as Terminators.
A type of synthetic "living tissue" can be placed over a T-800, turning it into a undercover cyborg assassin called a Infiltrator.
Appearances
Edit
External links
Edit
Ad blocker interference detected!
Wikia is a free-to-use site that makes money from advertising. We have a modified experience for viewers using ad blockers

Wikia is not accessible if you've made further modifications. Remove the custom ad blocker rule(s) and the page will load as expected.